CREATE THE LANDSCAPE
OF YOUR DREAMS
New Image Landscaping & Tree Service, Inc. can help you create and experience the luxury of a private resort without leaving your own backyard. No matter what type of landscape or outdoor living project you're looking for, New Image is up for the task. We are passionate about delivering the highest quality of service in the industry. Our unique design-build-maintain approach streamlines our customers project which translates to savings and faster project delivery for our customers. From new home installations to complete renovations, you can be confident that our expert team and cohesive process will deliver a professional result grounded in construction and maintenance realities.
WHO WE SERVICE:
HOAs
Corporate campuses
Office buildings
Museums
Apartments and Condominiums
Schools
Retail centers
Athletic fields
Hospitals
Religious institutions
Senior housing
Municipalities
Industrial parks
Hotels & resorts
Residential
Estates
LANDSCAPE DESIGN & 3D RENDERNGS
Bring Paradise To Your Backyard
Our design team at New Image Landscaping & Tree Service, Inc. creates superior, sustainable outdoor living spaces, lush gardens, and meticulously crafted custom pools and landscapes for commercial and residential properties in Los Angeles County, San Bernardino County, and Orange County. Since 2008 New Image has designed custom landscapes for homeowners and collaborated with home builders and interior designers. We pursue standards of excellence in our designs, materials, quality detail, and dedication to service; seeking to build long-lasting relationships with our Southern California clients. New Image is dedicated to exceeding our client's expectations through superior design, honest long-term relationships, and a commitment to implementing exceptional landscapes in a fun and easy manner.
Landscape design can range the gamut from simple layouts of a few plantings to more elaborate designs, which can include patios, outdoor kitchens, firepits and xeriscaping. Our landscape designers and architects can transform your residential and commercial projects on time and on budget. From contemporary outdoor fireplaces to romantic gardens, and modern custom pools, each outdoor environment evokes a feeling of distinction as unique as our clients.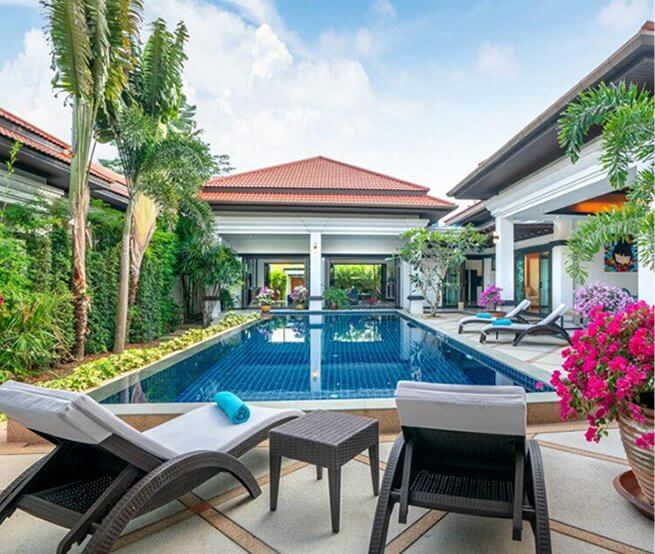 By developing a design plan that complements the existing landscape, our designs transform a site into an expression of identity and individuality that matches each client. In our design process we coordinate the practical aspects of the client's environment with their needs and desires. During the initial meeting the scope of the project is discussed, and a full property survey is conducted to determine the dynamic of the project. The survey discovers measurements, existing foliage, and architectural features, sun and shade dynamic, drainage, topography, wind dynamics and sound observation. In this stage the site inventory will be analyzed to determine sight lines, focal points to accentuate views. Circulation patters, space utilization, grading and drainage dynamics will guide the design choices. And exposure to traffic and noise will be evaluated to determine any need for natural privacy screening. Our staff will then combine this information along with your vision to create your custom design. We use a wide range of design presentations to convey our designs:
Conceptual design
Renderings
Planting plans
Sketches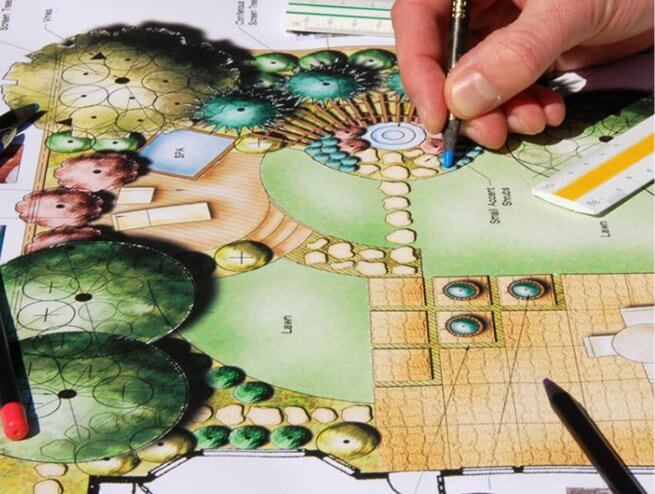 The Next Step In Bringing Your Project To Life Is Construction. As An All-inclusive Landscaping Firm, We Offer A Range Of Landscaping Specialties:
Custom hardscapes: Patios, decks, porches, pathways, trellis structures, outdoor fireplaces, BBQs and retaining walls
Rockscapes: Rock groupings, riverbeds, pathways
Low-voltage lighting: Up/spot lighting, down lighting, and specialty lighting
Landscape installation: planting, grading, etc.
Water features: waterfalls, fountains, etc.
Specialty features and affects: Brick/masonry, pavers, modular concrete block systems, etc.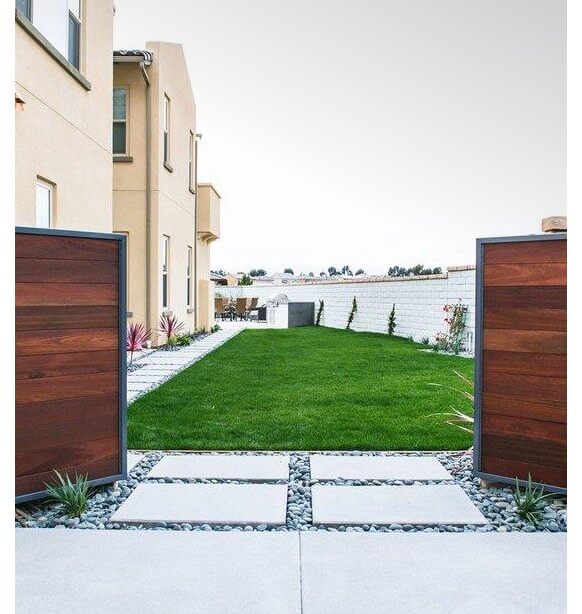 Once your landscape design has been brought to life with our top-quality construction, New Image offers a wide range of ongoing maintenance service options to ensure your new investment looks fresh and clean all throughout the year.
Whether you're looking to spruce up your buds for spring, clean out weeds in the summer, or simply maintain your fresh-looking lawn in the winter, our maintenance service plans will make sure your landscape is expertly cared for. Consider signing up for:

QUARTERLY SPRUCE UP SERVICE

MONTHLY MAINTENANCE SERVICE

SEASONAL
CLEANUPS

FIRE MODS
Our experts can work with you to come up with a year-round plan that fits the particular needs of your property.
Call 800-284-4541 to book your appointment today!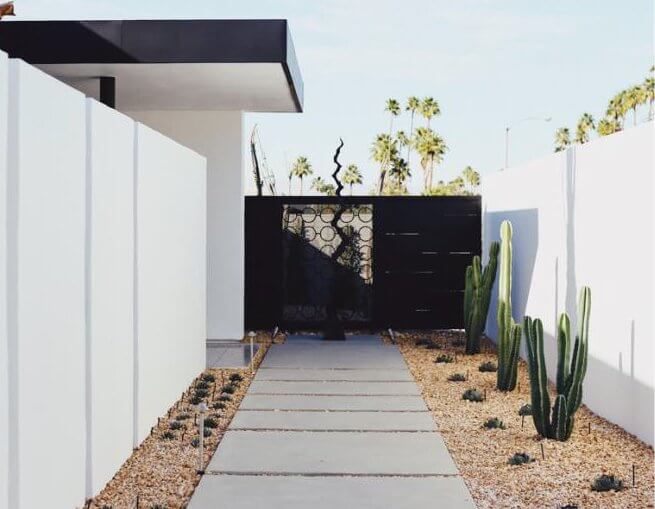 Hardscaping your yard is more than just aesthetics, it serves a purpose and is extremely important to the overall function of your outdoor space. When planning and choosing your hardscaping materials, layout and design, it is important to consider how they will impact efficiency, flow, and look of your landscaping. The size of the space you're working with doesn't necessarily imply restrictions on your design, so dream big! Our designers can offer creative solutions for any space.
WHAT WE OFFER:
Covered Patios
Outdoor kitchens and Barbecues
Porches
Decks & Approaches
Stone and Concrete Pavers
Pathways & Walkways
Retaining walls & Fences
Driveways
Outdoor fireplaces & Fire pits
Retaining walls and stone stairs or paths can assist in leveling off sloping or uneven land and can also help improve drainage and minimize runoff in areas that may get flooded with water faster. Materials like stone, rock, and concrete can help dry the soil around it by absorbing heat from the sun. This can prevent standing water, over-watering, algae and mildew, and unwanted pests.
Fences and gates provide privacy and protection for your home. They define your property line and section off various areas of your yard that you may want to use for other purposes.
When designed and implemented correctly, hardscaping also provides fluidity from the inside of your home or business to the outside. Building an outdoor kitchen, deck or patio creates and provides amenities that rival those of your indoor space. And an outdoor fireplace or fire pit drastically extends the use of your outdoor space well into the colder months.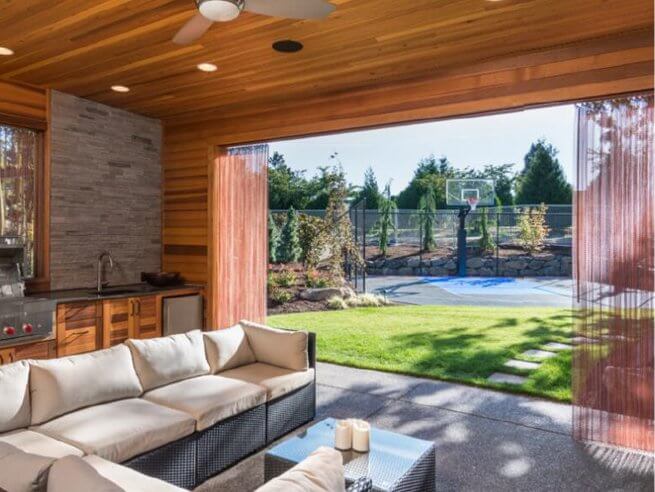 OUR PROCESS
After contacting New Image, you will be paired with one of our landscape consultants as best suited according to the scope of your project. During our no cost consultation, our landscape consultant will meet with you to assess your property, discuss your goals and begin the design process. At this meeting our landscape consultant will interview you about your starting thoughts and begin to develop a design strategy for the project. Broad concepts and budgetary guidelines will be discussed as well to tailor our design and successfully fulfill your goals of transforming your property to your specifications.
Depending on the size and ctomplexity of your project, the next step might require a conceptual design or a more complex and detailed scaled design utilizing CAD technology and 3D imaging rendering of your design plans. Not all hardscapes need design plans, our landscape consultant will help you determine what type of design plan if any is needed for your project.

New Image has a team of professional readily available to help get your dream project underway. We know this process can be stressful, but our customers can count on our integrated design-build-maintain approach that offers team-synergy between our different divisions. This unique approach translates to seamless project delivery, singular responsibility, better cost and quality control, and you will have a project manager who will keep you informed throughout the process.
OUTDOOR AUDIONSTALLATION
Every Season Has Its Soundtrack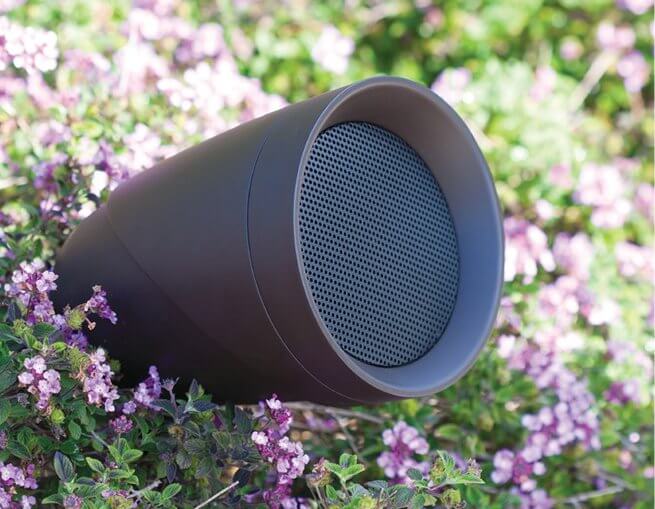 Wouldn't you like to kick it up a notch or two this year? How about throwing some outdoor speakers into the mix? New Image Landscaping & Tree Service, Inc., will recommend the best equipment to suit your needs and your budget. When it comes to installation, we will select proper locations and positioning to ensure you can hear clear sound from various locations in your backyard.
Whether you have a commercial, business, or residential property, installing an audio system outside can provide you with hours of outdoor entertainment for your space. Our process begins with a free consultation where we listen to your vision and help you decide on the type of speakers you need. Choose powerful speakers for blasting the bass at pool parties or simpler speakers if you intend to listen to soothing music or radio while gardening. No project is too big for our experts and all of our designs are customized to your specific project.
We take every detail of your vision into consideration like whether you would like the speakers to remain visible or want them camouflaged into your landscape.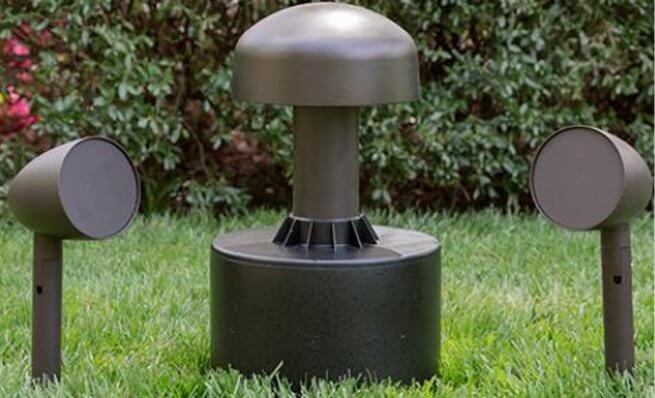 Outdoor audio installations are more complicated than indoor installations and should be customized to your space. A professional installation will maximize the performance of your outdoor speakers. Outdoor speakers need protection from extreme heat, UV rays, rain and dust. Our speaker installation services cover all aspects of proper speaker installation and ensure long-lasting performance.
Our experience and knowledgeable outdoor audio installers will show you how to operate your new system from your smartphone or tablet and we're always available to help you with support along the way. Let New Image help extend the living space of your home with an amazing outdoor entertainment system. To learn more about our reliable speaker installation services, get in touch with us today.
LOW-VOLTAGE LGHTING
Enhance The Look And Feel Of Your Home
New Image Landscaping & Tree Service, Inc, experts know that landscape lighting is quite versatile and can work in all parts of the outdoor space. Perfectly angled landscape lighting for your water feature can create a tranquil ambiance that can help you unwind after a busy day. Our skilled lighting technicians can help you install the perfect low-voltage landscape lighting design that's perfect for your driveway, entryway, plants and trees. Our lighting technicians understand the unique effects and the specific lighting techniques that need to be used in order to achieve the best results.
SOME OF OUR MOST COMMON SERVICES INCLUDE
Enhancing the property's architectural beauty with accent lighting
String lights for nighttime events and entertaining
Poolside lighting for those late-night swims
Walkway and stair lighting solutions to keep you and your guest safe
Dazzling garden and landscape installations that show off your stunning property Ambient lighting for decks and patios to set the perfect mood
New Image is a full-service lighting company, our service goes far beyond just installing outdoor lighting. We provide everything you need, from installation to design to maintenance.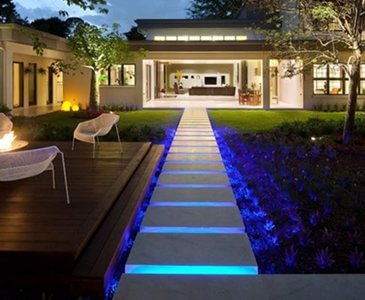 Complimentary in-person design consultations:
Our designers work directly with you to create a custom lighting design plan that fits exactly what you're looking for. We'll tour your
Existing lighting
upgrades:
We can upgrade your system to modern LED lights, which are low-voltage and energy efficient
Annual Maintenance
Plan:
We'll ensure your outdoor lighting is always working it's best with our regular routine maintenance.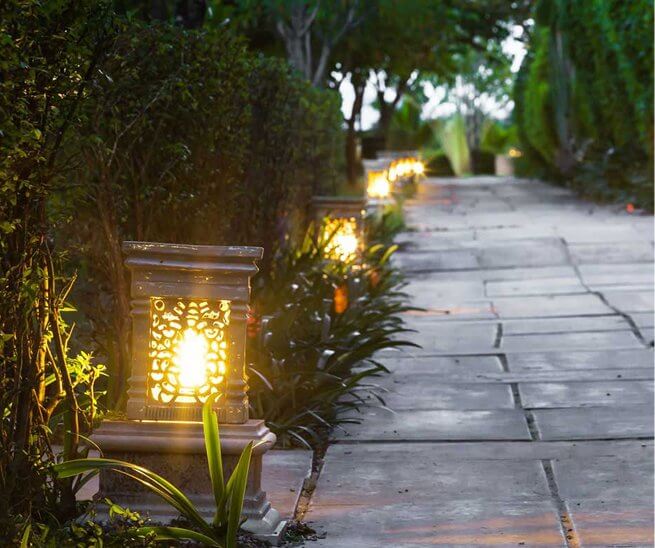 There is no denying that landscape lighting is one of the most effective ways to add beauty and value to your property. Our trained outdoor lighting designers focus on highlighting the best features of the front of your property to increase its curb appeal and create a welcoming ambiance. The architecture, textures, and colors of your property will all be considered as your lighting design is created.
WHO WE SERVICE:
HOAs
Corporate campuses
Office buildings
Museums
Apartments and Condominiums
Schools
Retail centers
Athletic fields
Hospitals
Religious institutions
Senior housing
Municipalities
Industrial parks
Hotels & resorts
Residential
Estates
Your satisfaction with your outdoor lighting is our number one concern. Every time the sun goes down, we want you to marvel at the aesthetic appeal of your property. This is why we use the best products and set the highest standards.
SYNTHET CTURF
High Quality Work To Meet Every Budget
Many homeowners and commercial property owners chose artificial turf because it saves money, there's less maintenance than with conventional grass lawn, and it's eco-friendly. New Image Landscaping & Tree Service, Inc. has a team of artificial grass experts that can help with projects of any size, whether you want something from scratch or a simple change, our team can help turn your yard into an oasis.
Over 10 Years Of
Experience
Largest Selection
Of Realistic Turf Styles
Delivery And Installation
Throughout Southern California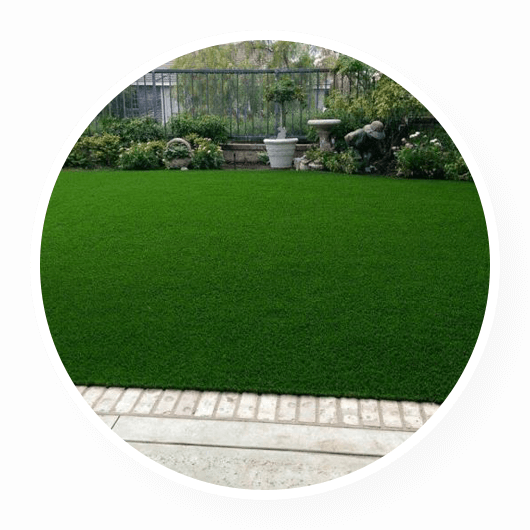 Contractor Licensed,
Bonded And Insured
Excellent Customer
Service
Highest Quality Of
Realistic Turf Styles
Synthetic turf is the perfect choice for many commercial landscapes, playgrounds, and sports fields. Commercial landscaping with natural grass can cost thousands of dollars annually with professional mowing, fertilizing, re-sodding, general upkeep and irrigation expenses. All of this is eliminated with the use of synthetic turf. It's time to enjoy your yard again. Fill out the contact us form and a member of our team will contact you to schedule a free estimate appointment to discuss the grass style that's right for your property. The installation is done quickly, professionally and with the best warranty in the business.
CLICK HERE to Learn more about some of the different options you have to choose from.
JO N OUR TEAM?
The New Image Landscaping & Tree Service, Inc. team is dedicated to making lawns the best they can be and in turn ensuring that our clients are as pleased as they can be. We provide the highest quality service and products in the market to ensure our customer's satisfaction is always priority number one.